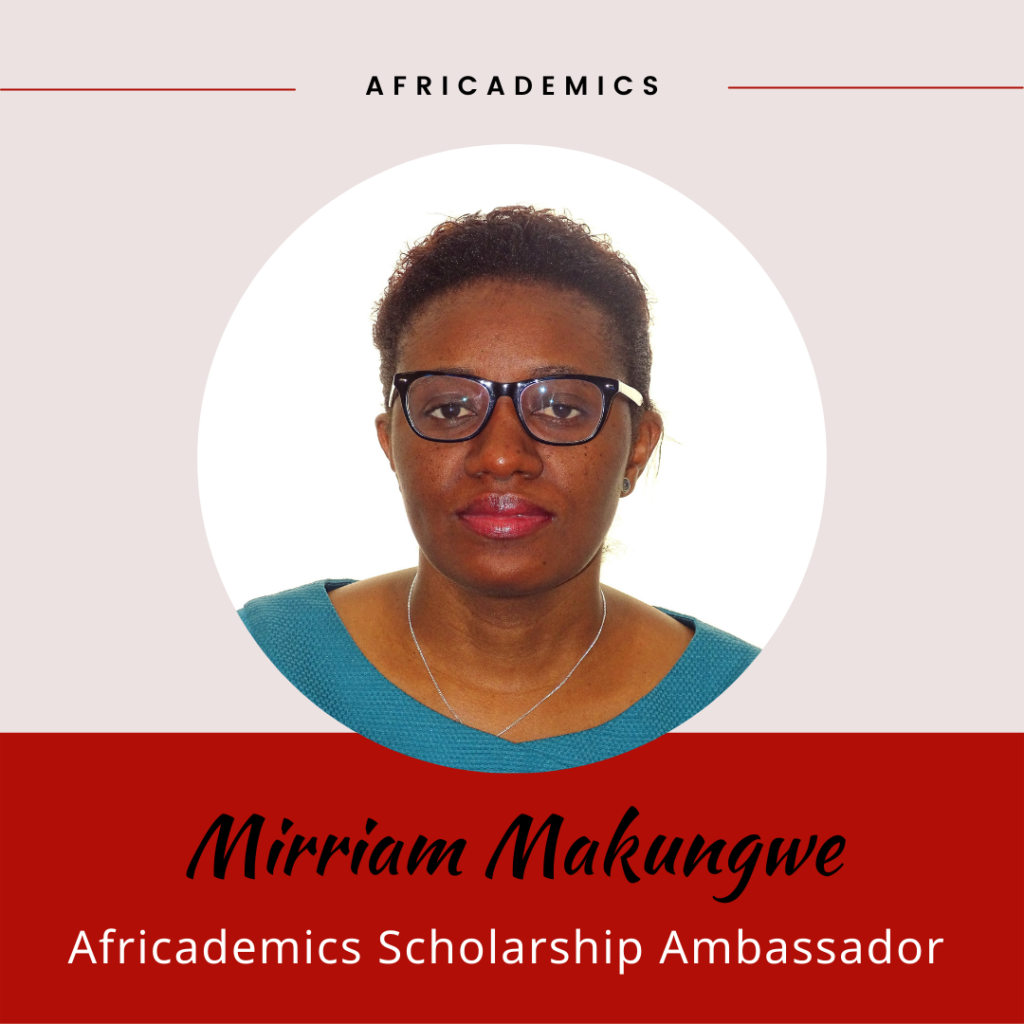 Mirriam Makungwe from Zambia is currently working as an Agricultural Water Resource Management and Horticulture Expert at the NIRAS International Consulting branch in Zambia. She holds a PhD and Master's degree in Integrated Soil Fertility Management from the University of Zambia.
She has been the recipient of numerous scholarships, namely the Commonwealth split-site scholarship funded by the UK Foreign Commonwealth and Development Office (FCDO), the One Planet fellowship offered by African Women in Agricultural Research and Development (AWARD), the Science, Technology, Female Postgraduate Scholarship, as well as the Alliance for Green Revolution in Africa (AGRA) scholarship.
Mirriam's motivation to join the Africademics Scholarship Ambassador team is because everything she have achieved (be it scholarship, employment etc) is because of someone helping and mentoring her through the process. She therefore feels that it is only fair for her to return the favour to others. She believes that we are blessed so that we can be a blessing to others.
In 10 years' time Mirriam sees herself working as a researcher, doing high-quality research, on the application of spatial models and machine learning in improving the livelihood of rural communities, at research institutes and universities, as well as lecturing and mentoring the youth to achieve their goals. An interesting fact about Miriam is that she still really enjoys watching cartoons with her children.
Welcome to the Africademics Ambassador Programme, Mirriam!
The Scholarship Ambassador Programme
Through the Scholarship Ambassador Programme Africademics trains volunteers from across Africa to become scholarship advisors and mentors. Ambassadors complete a 4-month online course with virtual lectures, case studies and additional activities. Once they have successfully graduated, our Scholarship Ambassadors offer personal support, advice and mentorship for scholarship seekers and applicants in and from Africa.
Our 2022 Ambassador cohort started their training in April 2022 and we are thrilled to have over 90 students and scholars from across the African continent on board this year. In 2021, we welcomed our first cohort of 30 Scholarship Ambassadors who completed their training in November 2021. They now offer free scholarship consultations, mentorship and application assistance for scholarship seekers in and from Africa on a regular basis.
Meet our team of Scholarship Ambassadors here and let us know via our contact form if you would like to book a personal consultation with one of them!