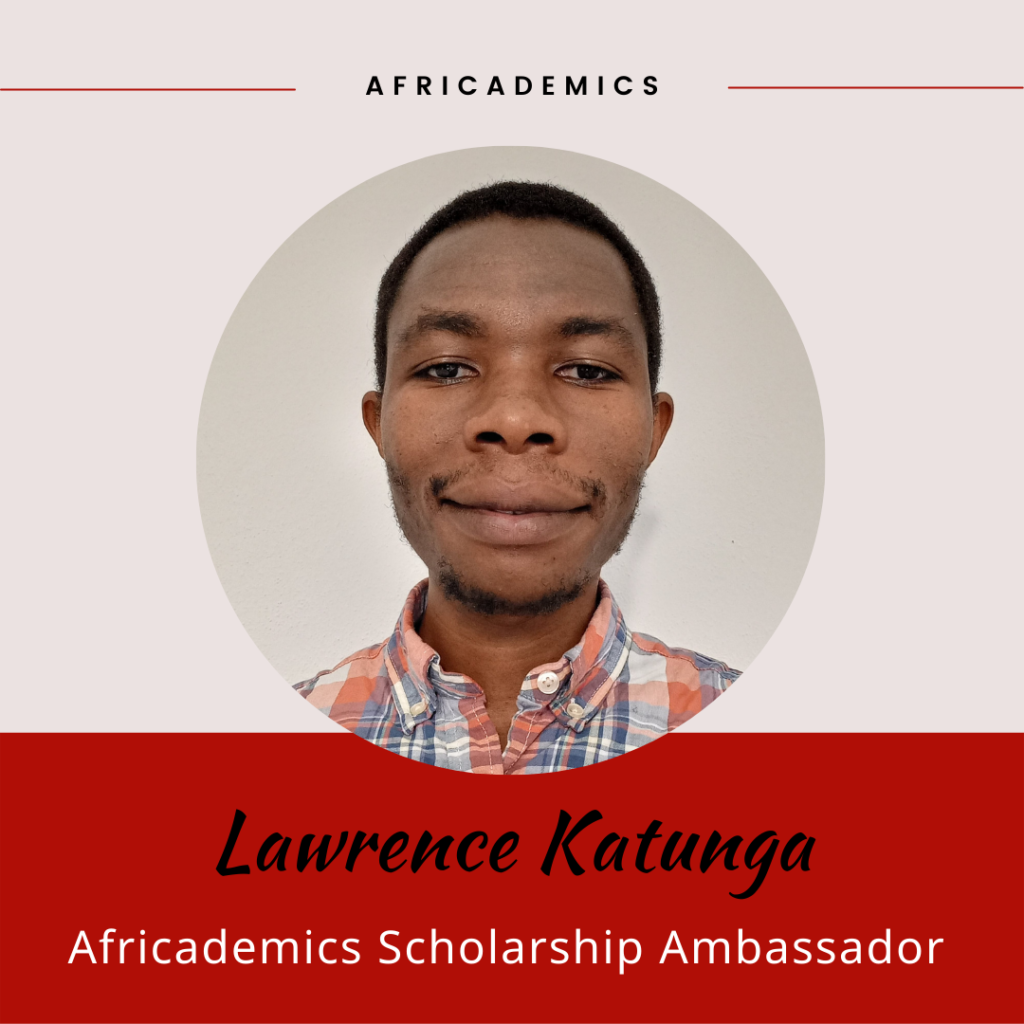 Lawrence Katunga from Malawi is currently studying towards for a Master's degree in African Studies under the Erasmus Mundus Scholarship, jointly offered by the Universities of Porto, Bordeaux Montaigne and Bayreuth in Germany. He also holds a Master's degree in Governance and Regional Integration from the Pan African University in Cameroon, where he was a recipient of the African Union scholarship.
Lawrence joined the Africademics Scholarship Ambassador programme because he would like to use his knowledge, skills and experience to empower African youth to get scholarships and reach their potential. He would like to provide a shoulder for young Africans to lean on and encourage them to never give up. Because of his own experience of the demotivation that comes with receiving rejection letters, he would like to help others to be able to handle such rejections positively by sharing his own experiences and supporting them to be on their feet until they get that one 'yes' that will mean everything.
In 10 years' time, Lawrence would like to obtain a PhD in International Relations or in Development Studies and have a well-established consultancy firm to provide consultancy services to organizations and government institutions on governance-related issues. Something people might not know about Lawrence is that he is not as quiet as he seems.
Welcome to the Africademics Ambassador Programme, Lawrence!
The Scholarship Ambassador Programme
Through the Scholarship Ambassador Programme Africademics trains volunteers from across Africa to become scholarship advisors and mentors. Ambassadors complete a 4-month online course with virtual lectures, case studies and additional activities. Once they have successfully graduated, our Scholarship Ambassadors offer personal support, advice and mentorship for scholarship seekers and applicants in and from Africa.
Our 2022 Ambassador cohort started their training in April 2022 and we are thrilled to have over 90 students and scholars from across the African continent on board this year. In 2021, we welcomed our first cohort of 30 Scholarship Ambassadors who completed their training in November 2021. They now offer free scholarship consultations, mentorship and application assistance for scholarship seekers in and from Africa on a regular basis.
Meet our team of Scholarship Ambassadors here and let us know via our contact form if you would like to book a personal consultation with one of them!