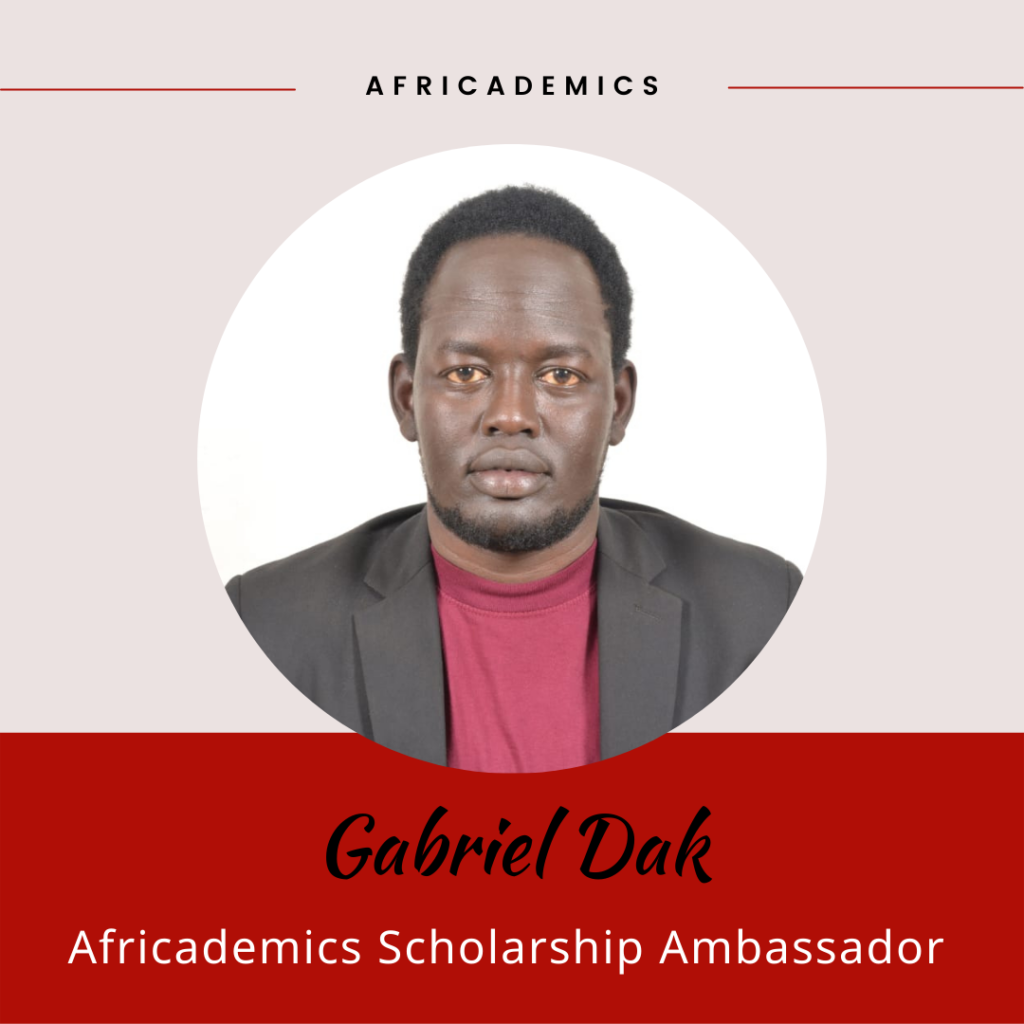 Gabriel Dak from South Sudan is currently completing his Bachelor's degree in Development Studies at Jomo Kenyatta University of Technology and Agriculture, while simultaneously filling the role of Chartered President of the Rotaract club of Kitale. He also holds a diploma in Public Administration from the University of Eldoret.
Gabriel is extremely passionate about giving back to his community and has accomplished a lot during his extensive volunteering experience. For instance, he founded the 64 Voices Peace Initiative in South Sudan and established Hope House International as a children's home that houses and educates orphaned youth.
Gabriel joined the Africademics Scholarship Ambassador team because he would like to grow his professional profile through meaningful relationships that he builds with like-minded people he meets in the Africademics community and be a part of impactful projects to build a greater future for his community and country. He would also like to use the knowledge he gains from Africademics to assist the youth of Hope House International to reach their full potential.
In 10 years time, Gabriel would like to be an influential lecturer and successful family man and entrepreneur. An interesting fact about Gabriel is that many people wrongfully think that his surname is spelt as "Dark" instead of "Dak".
Welcome to the Africademics Ambassador Programme, Gabriel!
The Scholarship Ambassador Programme
Through the Scholarship Ambassador Programme Africademics trains volunteers from across Africa to become scholarship advisors and mentors. Ambassadors complete a 4-month online course with virtual lectures, case studies and additional activities. Once they have successfully graduated, our Scholarship Ambassadors offer personal support, advice and mentorship for scholarship seekers and applicants in and from Africa.
Our 2022 Ambassador cohort started their training in April 2022 and we are thrilled to have over 90 students and scholars from across the African continent on board this year. In 2021, we welcomed our first cohort of 30 Scholarship Ambassadors who completed their training in November 2021. They now offer free scholarship consultations, mentorship and application assistance for scholarship seekers in and from Africa on a regular basis.
Meet our team of Scholarship Ambassadors here and let us know via our contact form if you would like to book a personal consultation with one of them!