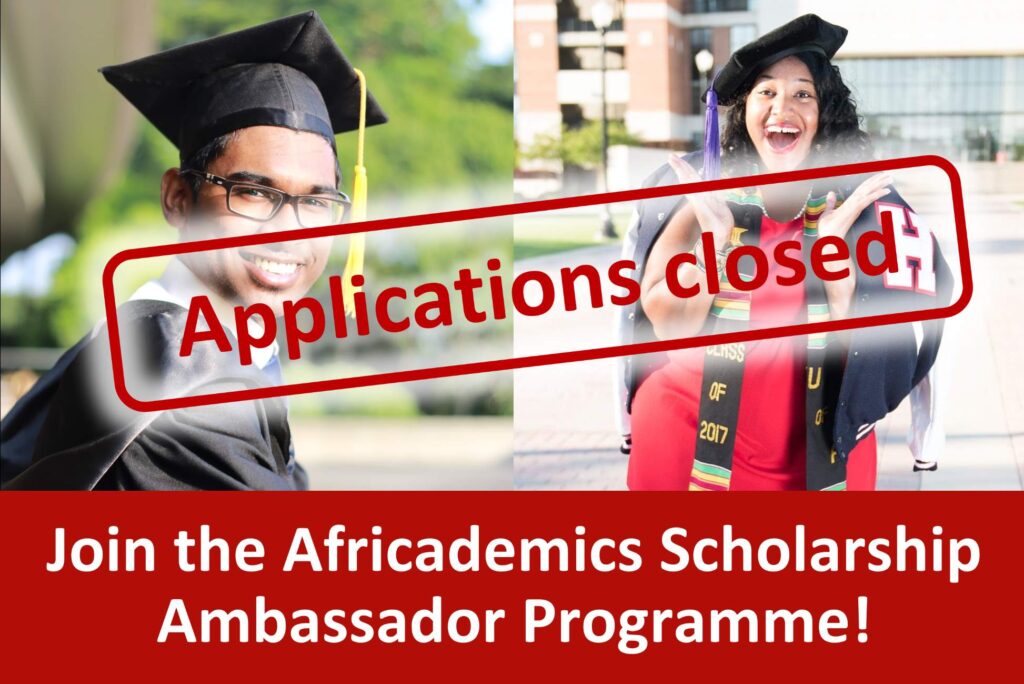 Thank you to everyone who applied for the 2022 round of the Africademics Scholarship Ambassador Programme!
We received close to 300 applications and our team is currently busy reviewing them. Successful applicants will be informed via email by Thursday, 24 March 2022, the latest. So please keep an eye on your inbox (and your spam folder)! Should you not receive an email by Thursday this means that your application was unfortunately unsuccessful this time. However, we encourage you to re-apply for the next round which will start in early 2023.
About the Programme
The Scholarship Ambassador Programme trains volunteers to become scholarship advisors and mentors. Ambassadors participate in a 4-month online course with virtual lectures, case studies and additional activities. They then join our global team of volunteers and offer personal support, advice and mentorship for scholarship seekers and applicants in and from Africa. The first cohort with 30 participants from ten different countries graduated in October 2021. To meet our Ambassadors and learn more about them, visit our Ambassador page!
About Africademics
Africademics, founded in 2019, is a non-profit scholarship platform for students, graduates, early career researchers and youth in and from Africa. Our goal is to increase access to scholarships and funding opportunities for young Africans who wish to pursue higher education. We share scholarships on a daily basis on Facebook, Twitter, Telegram and WhatsApp, as well as in our weekly email newsletter. Our scholarship updates reach over 30,000 followers in Africa and beyond.
In addition we offer personal support and advice for scholarship seekers and applicants through our Scholarship Ambassador Programme which trains volunteers to become scholarship advisors and mentors. Africademics was awarded the 2021 'weitergeben' social engagement prize by the German Academic Scholarship Foundation and was selected as a finalist for the 2021 'startsocial' programme.