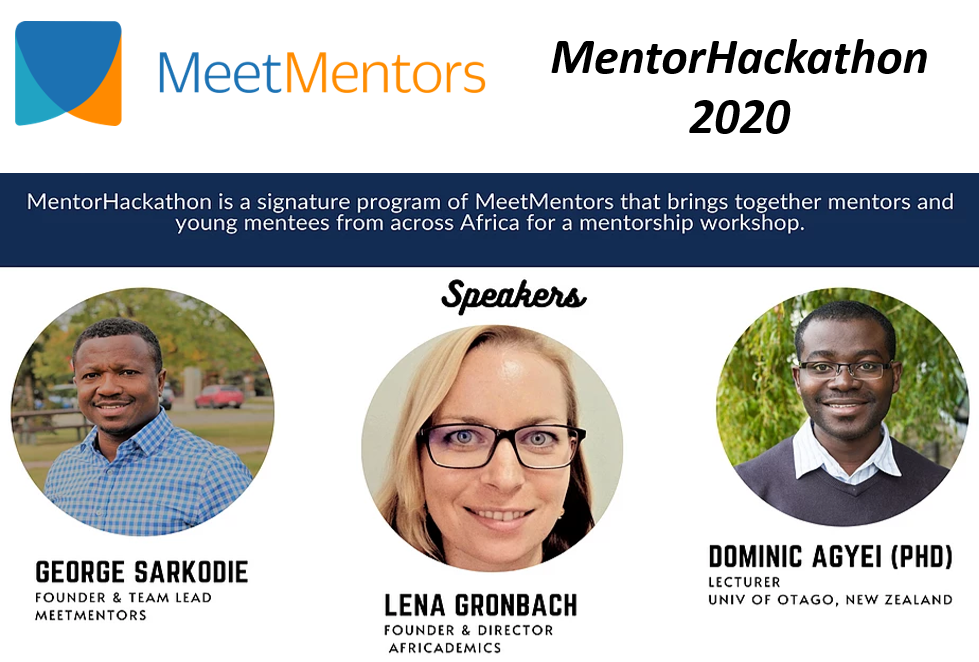 Did you miss the MeetMentors MentorHackathon 2020 last week? Don't worry, you can now watch the recording and listen to the inspiring and informative talks of MeetMentors founder George Sarkodie, Dr Dominic Agyei, food scientist and lecturer at the University of Otago in New Zealand, and Africademics founder and director Lena Gronbach.
The talk by Africademics founder Lena Gronbach starts at 1:04 h and focuses on scholarships and study abroad opportunities for African students, early career researchers and young scholars. In addition to an overview of the different types of scholarships and selected programmes, Lena shares her 10 top tips for scholarship applicants and students planning to study abroad.
About the MentorHackathon 2020
The 2020 MentorHackathon is a signature program, organized by our new partner organization MeetMentors. The event brought together mentors, young mentees and youth interested in mentoring and career development from across Africa, in a 1-day mentoring workshop.
The MentorHackathon took place online (Zoom) on Friday, November 28, 2020 between 17:00-19:00 GMT. The event was intended to engage mentors and college students, recent graduates, and young talents from across Africa. The theme for this year's event was Bake It For The Cake, implying the need for young people in Africa to fully commit to the course that would enable them see the success they are aspiring to achieve.
For all inquires and/ or partnerships, please contact #MeetMentors at info@meetmentors.org. For mentoring support, get in touch with MeetMentors.