By Aydn Parrott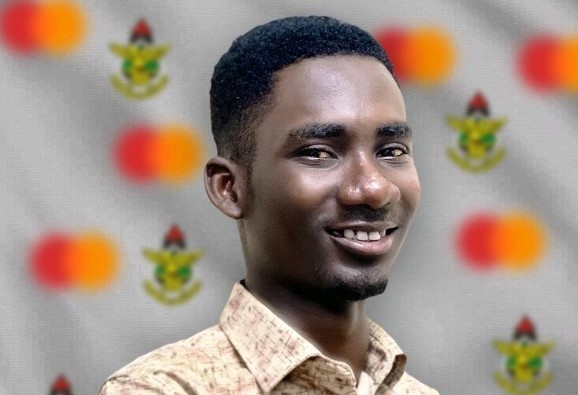 "I applied for this scholarship because it was going to give me the opportunity to be among the young Africans who are going to drive positive change in Africa,"

Famous Ghanyo Tay, Ghanaian Mastercard Foundation Scholar
Famous Ghanyo Tay is a BSc. Electrical & Electronic Engineering student under the MasterCard Foundation Scholars Program (MCFSP) at Kwame Nkrumah University of Science and Technology (KNUST). He currently serves as the Chairman of the Electoral Commission of the MCFSP Scholars Council and is also the founder of Iflyer Graphics.
He was awarded the Best Male Scholar for cohort four of the MCFSP in recognition of his astounding academic performance in 2019. In 2018, he was nominated among other scholars to attend the 2018 edition of the Scholars Convening themed "Collaborating to Create the Workforce Africa Needs" at Ashesi University, Ghana. 
Famous, who hopes to work as a lecturer and eventually an entrepreneur, says that he would like to pursue a master's degree in electrical engineering after completing his undergraduate degree. Thereafter, he sees himself, "working in industries where I would be able to put together and blend my fresh academic knowledge and basic work experiences into play."
"Ten years from now," Famous says, "I look forward to establishing one of the largest and most modernised Energy and Power Transmission companies," and he hopes to "leverage all the experiences amassed over the years to contribute to the energy sector in Ghana, Africa and the world at large." Speaking about his desire to lecture, Famous says, "I would love to become a professor because of my passion to mentor and nurture young talents."
Speaking about his scholarship experience, Famous says being a Mastercard Foundation scholar has been a memorable life-transforming experience. Famous says the scholarship offers skills training which is designed to equip scholars with entrepreneurial and other skills: "The program has improved my leadership skills through the comprehensive leadership seminars and training offered." He adds, "the training has greatly shaped my presentation skills and has groomed me as a transformational leader who seeks to influence change in my country and the African continent."
Famous says that being part of the MasterCard Foundation Scholars Program at KNUST has provided him with the opportunity to meet and network with scholars and alumni from diverse backgrounds. A further benefit of the fund, Famous explains, is the Scholars Entrepreneurship Fund (SEF) which is aimed at nurturing creative and innovative scholars' business ideas. He says, "this fund is available to current scholars and alumni and it is designed to enable scholars' successful transition from school to business while also making a social impact."
Speaking about being a Scholar during the Covid-19 pandemic Famous says, "MasterCard provided us with additional support, through a stress and data allowance, to help us cope with the situation." He adds that the program also offers mentorship and counselling services and exposes scholars to different opportunities in Ghana and beyond.
"I encourage everyone to apply because the program will give you the necessary support and platform to achieve your dreams and shape your personality," Famous says. He adds, "you don't need to concern yourself with funding since the scholarship provides comprehensive financial support for tuition, on-campus accommodation, learning materials, monthly stipends and transportation."
According to Famous, the program has a social platform called Baobab where scholars connect, network, share knowledge and opportunities and learn from each other. "It provides a curated learning environment and maximises mentorship opportunities," Famous explains. He says, "the scholarship program gave me the opportunity to be part of and network with the growing family of MasterCard Foundation Scholars Alumni and the global Scholars community."
Furthermore, "without this scholarship, my educational and career trajectory would have been rough and challenging," Famous says. Famous says, "I applied for this scholarship because it was going to provide me with comprehensive support and also give me the opportunity to be among the young Africans who are going to drive positive change in Africa."
Aydn Parrott is a freelance writer and storyteller. He represents Africademics as a University Ambassador at Stellenbosch University and runs the 'Power of Thought' blog: https://powerofthoughtblog.wordpress.com/