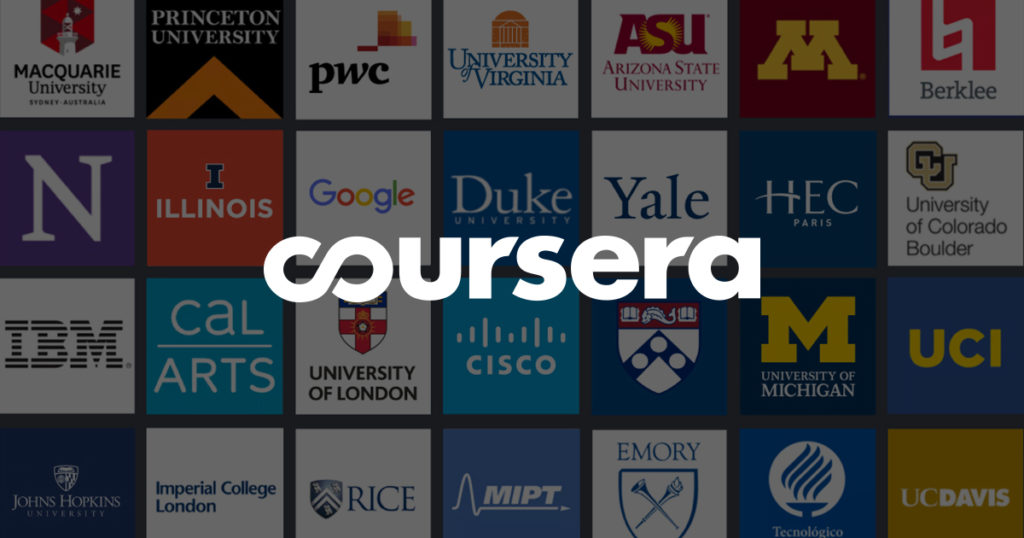 What is Coursera?
Coursera was founded in 2012 by two Stanford computer science professors with a vision to provide anyone, anywhere with access to the world's best education. Professors Daphne Koller and Andrew Ng put their courses online for anyone to take— and taught more learners in a few months than they could over an entire lifetime in the classroom. Today, Coursera has expanded to reach more than 40 million people and 1,900 businesses around the world. On Coursera you can find online courses, Specializations, certificates and degrees from 190+ world-class universities and companies, including: Yale, University of Pennsylvania, Google, IBM, and more.
Free Courses
Every course on Coursera is taught by top instructors from world-class universities and companies, so you can learn something new anytime, anywhere. Hundreds of free courses give you access to on-demand video lectures, homework exercises, and community discussion forums. Paid courses provide additional quizzes and projects as well as a shareable Course Certificate upon completion.
100% online
Learn something new in 4-6 weeks
Priced starting at about $39 (USD) if you want to earn a Course Certificate
Find your course here: https://www.coursera.org/browse
Professional Specializations
If you want to master a specific career skill, consider enrolling in a Specialization. You'll complete a series of rigorous courses at your own pace, tackle hands-on projects based on real business challenges, and earn a Specialization Certificate to share with your professional network and potential employers.
100% online
Master a skill in 4-6 months
Priced starting at $39 (USD) per month if you want to earn a certificate
Find your specialization course here: https://www.coursera.org/browse
Professional Certificates
Whether you're looking to start a new career or change your current one, Professional Certificates on Coursera help you become job-ready. Learn at your own pace from top companies and universities, apply your new skills to hands-on projects that showcase your expertise to potential employers, unlock access to career support resources, and earn a career credential to kickstart your new career.
100% online
Get job-ready in less than a year with hands-on projects
Priced starting at $39 per month (USD)
Earn a shareable Certificate
Find you professional certificate course here: https://www.coursera.org/professional-certificates
MasterTrack™ Certificates
With MasterTrack™ Certificates, portions of Master's programs have been split into online modules, so you can earn a high quality university-issued career credential at a breakthrough price in a flexible, interactive format. Benefit from a deeply engaging learning experience with real-world projects and live, expert instruction. If you are accepted to the full Master's program, your MasterTrack™ coursework counts towards your degree.
Take a module from a real master's degree, 100% online
Accelerate your career in less than a year with expert feedback and real-world projects
Priced starting at $2,000 (USD) with the option to pay in installments
Earn a university Certificate that can count toward a master's degree
Online Degrees
Transform your career with a degree online from a world-class university on Coursera. Our modular degree learning experience gives you the ability to study on your own schedule and earn credit as you complete your course assignments. For a breakthrough price, you'll learn from top university instructors and graduate with an industry-relevant university credential.
Flexible online learning, with open degree courses you can start today
Build your own schedule over 1-4 years of study
All-in pricing starting at $15,000 (USD) with the option to pay in installments
Earn an accredited university bachelor or master's degree