Medical physicist Iyobosa Uwadiae ignored sceptics who questioned her plan to pursue a doctoral programme in the African nation. Here is her advice.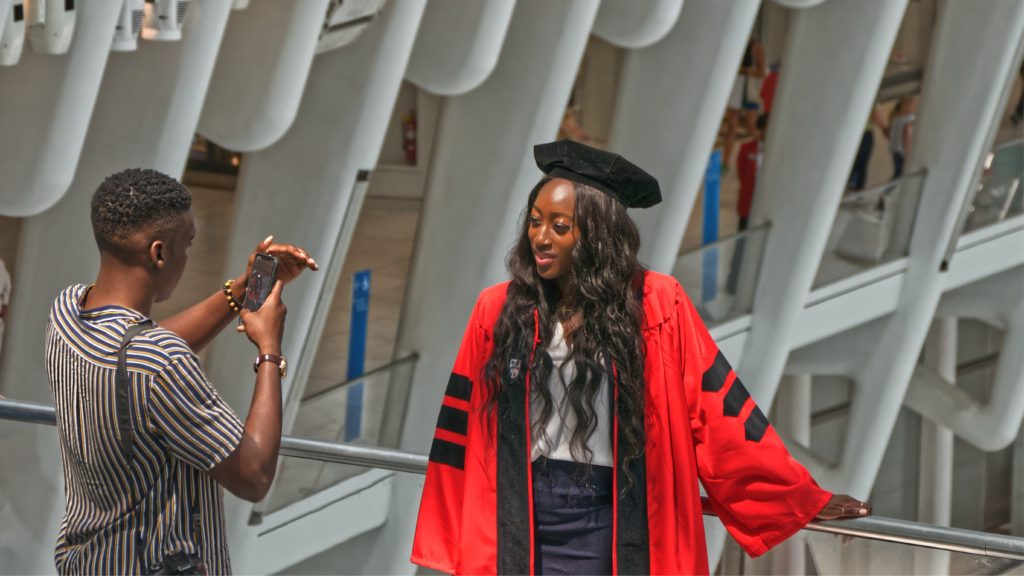 In 2014, I left the United Kingdom after earning a master's degree in medical physics at the University of Aberdeen, followed by clinical training at the Royal Marsden Hospital hospital in Sutton, London. When I returned to Nigeria, I enrolled in a PhD programme, also in medical physics, at the Obafemi Awolowo University in Ile-Ife.
I came home to be closer to my family, and to develop medical physics and advance the fight against cancer in Nigeria.
My decision to pursue a PhD met with the following reactions from friends and acquaintances:
• "So, after getting an international degree, why do you want to get a doctorate in Nigeria?"
• "A PhD is the highest academic degree, and where you get it matters a lot."
• "Please leave the PhD for the men and focus on your family. Remember, you are a woman!"
• "With the incessant strikes by university staff, it takes about eight years for a serious person to get a PhD in Nigeria."
• "There is no good equipment in the laboratories, so you can't do good research."
• And my favourite: "Aren't you supposed to be planning your marriage? Don't forget you are a woman; you wouldn't look attractive to prospective suitors with a PhD!"
There are many stories about how Nigerian research is not on a par with that of developed countries — in part because of scant research funding, the poor state of the country's education system, limited access to international journals, unreliable Internet services and a lack of the modern facilities and equipment needed to conduct meaningful research.
But researchers in Nigeria can navigate these problems. I did so by reading articles written by past and present students about their PhD experiences, and asking colleagues at home and abroad how they overcame the obstacles they faced.
I discovered that you can achieve almost anything if you commit yourself to it. Even with the best research facilities and supervisors, success depends largely on applying yourself and making the best of whatever situation you are faced with.
I learnt that finishing my programme 'alive' was as important as doing engaging research that solved a problem in my locality. Here's how I overcame the following challenges along the way:
1. Finance
I had a job to fund my tuition, study and research. If you do not have a scholarship, fellowship, stipend or grant — all of which are hard to come by at most Nigerian universities — you will need a stable source of income.
2. Well-being
I took care of my emotional well-being. Nigerian culture still often considers the idea of mental and emotional health to be a 'foreign' concept. I was often depressed, angry and frustrated during my PhD — largely on account of problems with broken lab equipment, missed deadlines, my fluctuating weight, frequent travel abroad to use other institutions' equipment, sleepless nights trying to understand what exactly my research was about, and the stress of working and studying at the same time.Collection: How to move lab
I couldn't afford a psychologist, so I talked things through with my parents, supervisor, siblings and friends. I had a strong support system, and shoulders to cry on when I needed them. At the click of a mouse, I could also get help from colleagues within and beyond Africa.
3. Support
An online network of former classmates, supervisors and senior colleagues was at hand to give me advice and help through e-mail, Skype and other social-media platforms. Also, friends overseas could download articles for me if my institution didn't have the necessary journal subscriptions. When developing your own network, you can also consider connecting with people who are working on, or who have worked on, projects that are similar to yours to get much-needed guidance. A simple Google search on researchers in your field can work wonders.
4. Networking
I hung out with other research students to get information about upcoming conferences, seminars, workshops and similar events. The research students you interact with do not have to be in your department, or even in your university. You might be surprised by how much information circulates among students on campus.
5. Pragmatism
I chose a realistic project. If, like me, you are a perfectionist and bookworm, you will understand the urge to want to do a 'star' project. But I can tell you from my own experience that it makes more sense to consider the environment you are in before you choose a research topic. I had to change my project topic four times, because I found that there was no way I could have finished if I had gone ahead with my first three ideas. If possible, carry out a feasibility study of your project — discuss your ideas with your proposed supervisor, and listen to their opinion. You both have to be on the same page.
6. Hidden costs
I considered the costs before setting out. A PhD is an expensive journey financially, emotionally and psychologically. You are investing at least three years of your life in a 'business' that might not yield the profit you hope it will. The probability of isolation and frustration is very high; stories of students who take their own lives, who become clinically depressed and who can't complete their programme abound online. You have to prepare for the hidden costs of what you are getting into.
7. Life
I tried to keep in mind that life happens. Unexpected difficulties such as illness, grief and disappointment came up during my studies. I had to overcome these. You are never really prepared for what life brings, and things don't always have to go the way we plan. Detours are sometimes OK.
8. Mentors
I realized that choosing the best supervisor for me was more important than choosing a particular institution. My supervisor, Fatai A. Balogun, had been my mentor for years, and was one of the few medical-physics professors in Africa. I heard many stories of bad supervisor–student relationships, and I wasn't going to put myself through the pain of having a supervisor from hell, or one who just didn't like me. Balogun had my best interests at heart, and I went the extra mile to ensure things were 'smooth sailing' — by not missing any of our appointments, for example.
9. Help
I sought help when I needed it. A few times, I got stuck trying to understand a concept or method, and I wasn't ashamed to ask colleagues at home and abroad for explanations. My monthly income wasn't enough to fund my research and meet my needs, and when I asked my loved ones for help, they were able to come to my rescue a number of times.
I tried to avoid feeling intimidated by the professors. You can do this, too. They have all travelled the same path that you are now on. They were once students, and one day you might be in their position.
I made up my mind to complete my programme in a maximum of four years, and drew up a timeline that I stuck to as much as possible. With the right strategy, supervisor, mindset and determination, it is possible to do good research in Nigeria, and to finish your PhD within a reasonable timeframe. I got mine in 2018! Remember, the major factor in your success is you.
This article was originally published in Nature (doi: 10.1038/d41586-019-02072-y)
Link to original article: https://www.nature.com/articles/d41586-019-02072-y